SimSpray™ is an immersive virtual reality painting simulation designed to augment traditional educational methods and assist in the training of basic spray painting and coating fundamentals.

SimSpray is a portable, turnkey system, a booth-in-a-box that packs into a rolling case for easy transport. No spray booth is needed, and students can practice in a classroom environment. This allows their peers to easily watch, learn, and benefit from each other"s "painting" time. Instructors can provide feedback both during the paint session and after as they inspect the virtually painted 3D workpieces.
By simulating spray painting, students get more practice and learn proper techniques without the cost of materials and consumables. Properly trained painters make higher quality coatings and require less rework. By reducing the need for materials and eliminating hazardous waste and air emissions, SimSpray decreases the costs of instructor led training programs while minimizing the impact on the environment.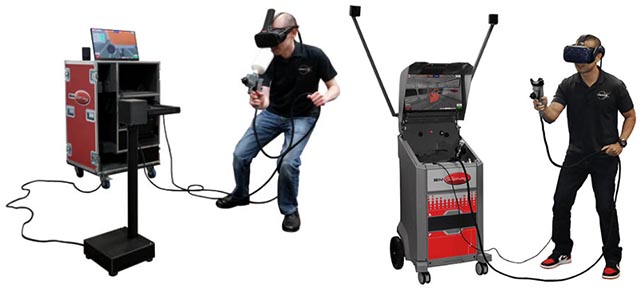 Features:
- Produces a realistic, 3D experience
- Reinforces the body positioning and movement required for proper painting and coating techniques
- Significantly increases hands-on practice time
- Improves classroom safety - no hazardous materials are consumed and no VOCs are emitted
- Produces measurable skills
- Decreases expenses including materials, consumables, energy, and waste disposal costs
- Reduces the carbon footprint of training programs
SimSpray embeds the HVLP, Airless and Airmix processes.

Two options are available as well:

The sand blasting add-on, provided with an abrasive blast gun that offers training on paint stripping and preparation process of industrial parts to be painted

The edge blending module is ideal for those who are learning automotive painting. It teaches fundamental blending skills for spot and panel repair.


SimSpray allows you to choose between two types of training:
The first type of training is the Lesson Mode. It guides students through a recommended sequence of lessons, organized into courses that focus on specific painting processes and levels of difficulty. To pass the lesson, the trainee needs to match or exceed a target score.
The second type of training is the Free Paint Mode. It gives students the opportunity to practice painting in a more autonomous way, with freedom to choose among a multitude of different projects.

Customized exercises can be created on every process. Each exercise called Project allows the student to link up to 12 coats (primer coat, color paint or clear coat) in order to complete full processing of a work piece. SIMSPRAY also includes some default exercises for those who do not wish to set up the system.
Benefits:
Provides a life-like experience for the students with real paint gun used in virtual reality, while 100% made in education. There is no need deyeing chamber only in real practice.
It allows the professional painting and sanding is required for each parameter in the exercise.
- Set the paint spray gun and air pressure
- The proper selection and training of the nozzle perfect spray technique
- The correct spray gun distance, gun handling and speed exercise
Includes comprehensive exercises which replicate the steps a student must take prior to painting.
Presents students with immediate coaching to change their spray gun positioning and speed for the ideal paint coverage and quality.
Delivers objective performance feedback to assess students' progress, strengths, and areas for improvement.
Incorporates easily into an existing curriculum by matching the hands-on exercises of an existing training program.
Decreases expenses associated with training supplies (e.g. paint, thinner, work-pieces, air filters, cleaning fluids).
Increases the eco-friendliness of traditional spray paint training programs.
Allows for basic spray paint training without a paint booth.
Changes to existing facilities not required.
Measures time spent painting, amount of paint applied and wasted, and VOC emissions to calculate SimSpray's return on investment.
SimSpray™ - Students Set Up
Proper materials selection and equipment set up are important first steps before a student begins a hands-on training exercise. To reinforce the necessity of completing these preliminary tasks, SimSpray is configured with mandatory selections to be completed before a student starts painting.
Process selection
The student select the process what they want to use.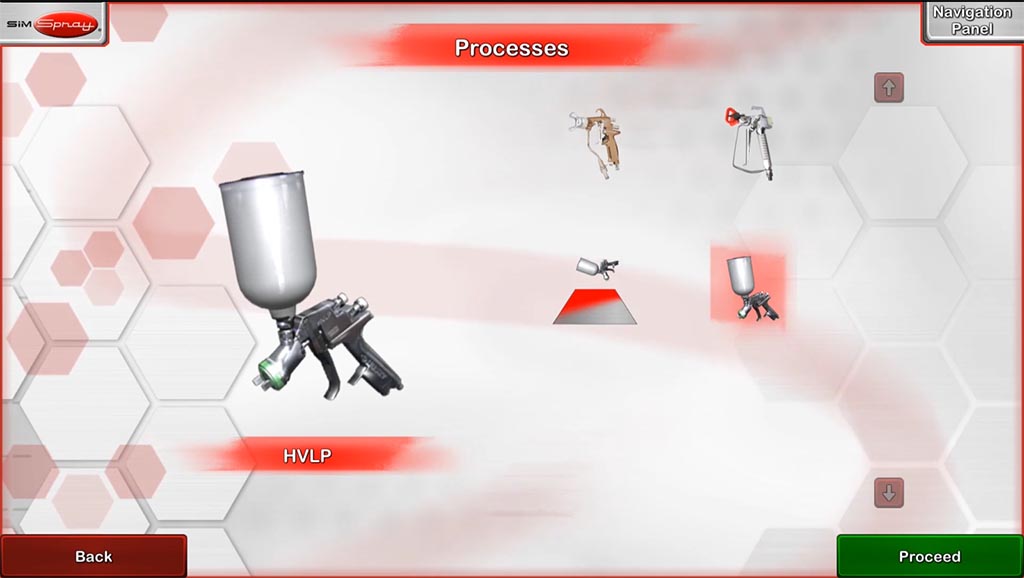 Workpiece selection
On this screen the student selects the part to be painted. With the headmount on, this workpiece will appear in 3D in the virtual environment.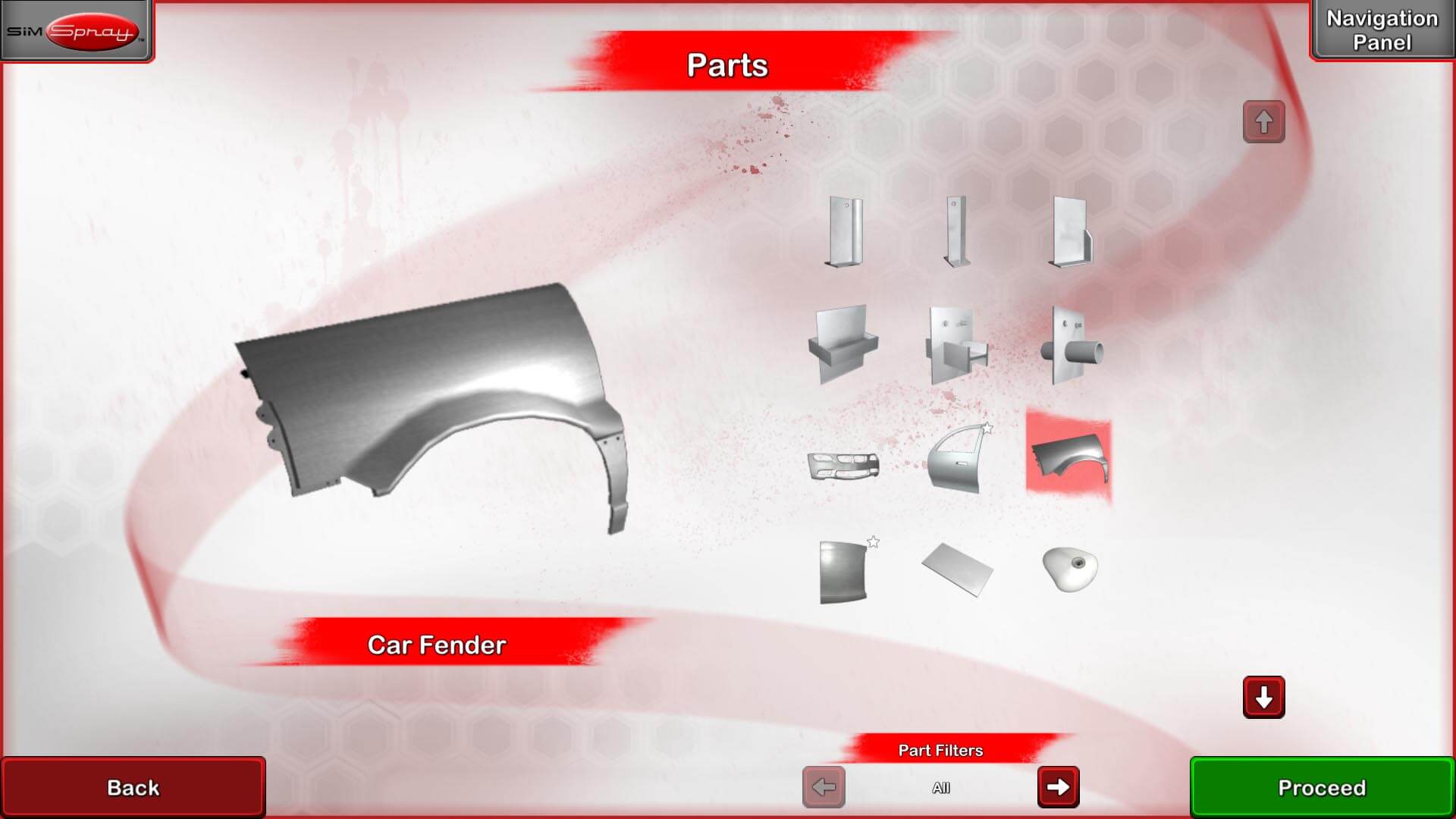 Colour selection
By tapping one of the color chips on the screen, the student selects the paint color they will apply to the workpiece.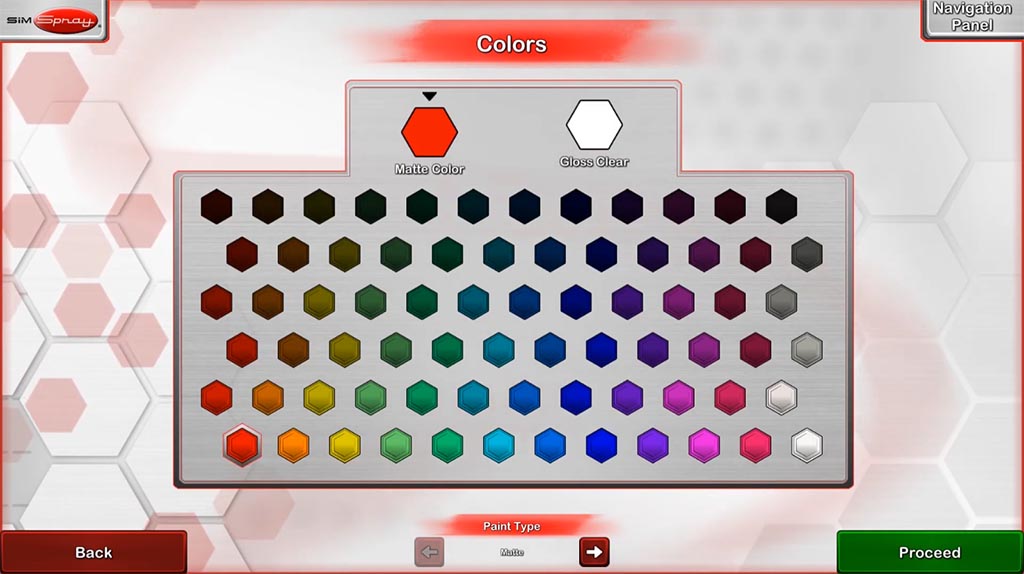 Environment selection
Here the student selects the immersive 3D surroundings they will see after putting on the headmount. Students can choose several spray booth, spray shop or bridge.
Project selection
Using the touch screen the student sets the air pressure, tip size, and cup configuration (gravity, siphon, pressure pot).
If the settings are entered incorrectly, the system won't let the student continue on.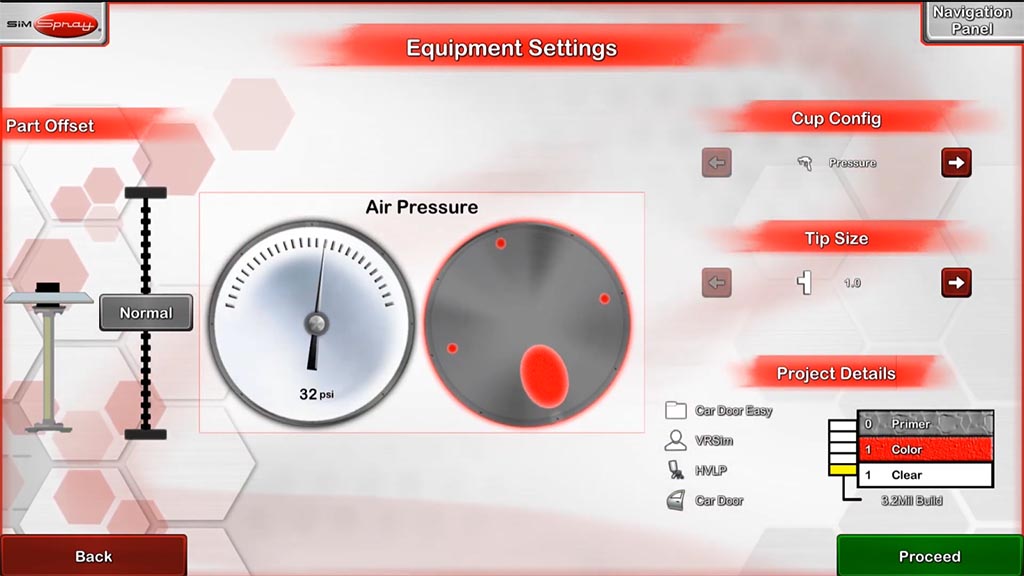 Once the correct settings are in place, the student hits the "Proceed!" button. The painting environment and workpiece are now visible in the painting helmet. With the spray gun in hand, the student can change the cone orientation and test the fan pattern. He can make adjustments (for both fan pattern and fluid) using the knobs on the spray gun before applying the paint for their hands-on virtual spray paint training exercise.
* SimSpray supports HVLP, Airless, and Air-Assisted Airless.
SimSpray™ - Student Views és Cues
SimSpray's Student Cues provide trainees with real time feedback on the specific spray gun positioning and speed required to successfully paint a workpiece. Student Cues can be turned on and off individually to provide focused feedback on the specific areas needing improvement.
Visual Cues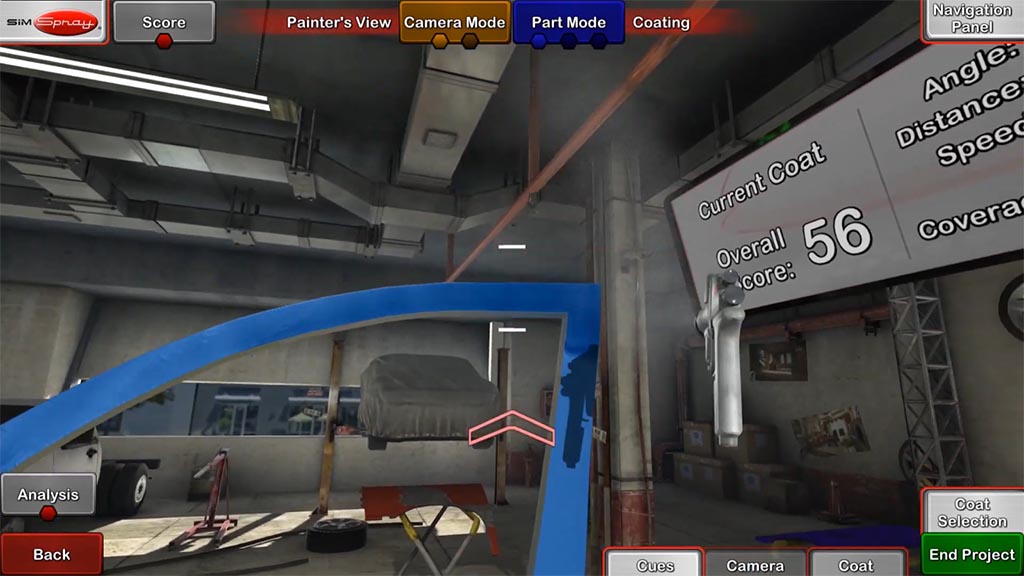 A variety of visual guides can be used alone or in combination with others to help students learn proper painting techniques. Visual Cues include: spray gun speed, stand-off distance, and spray gun angle.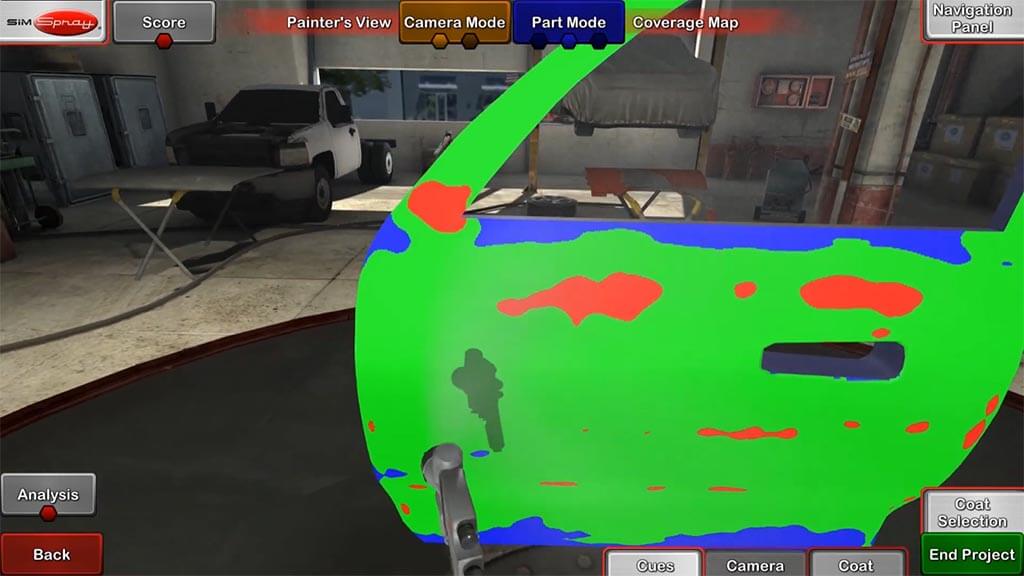 If a student is having trouble applying the correct mils to a workpiece, they can start off by painting in the coverage map view under the Review section. By doing so, the student will see green to signify they are applying the correct mils, or red for too much and blue for too little.
With SimSpray, instructors have the possibility to change painting parameters in order to match the needs of their training program.
SimSpray™ - Instructor Views & Tools
Instructors can examine the completed workpiece after each coat or while the trainee is painting. The workpiece can be viewed from every angle to determine the quality of the finished product, reflecting the trainee's skill level. Using controls on SimSpray's touch screen monitor, instructors can inspect a virtually painted part in much the same way as they would a physical workpiece. The pan, zoom, and rotate features of SimSpray's instructor views display vivid details of the joints, edges, and nooks of the virtually painted piece.
3D view of the completed workpiece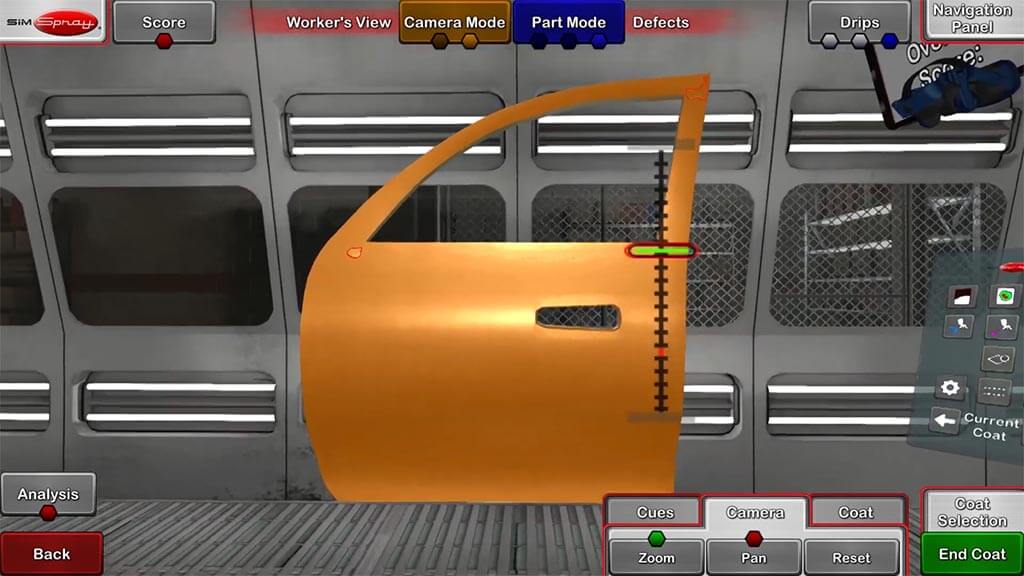 With the touch screen, instructors can pan, rotate, and zoom in/out to view the top, sides, and bottom of the student's work.
These controls can be used in the Review and Graph views.
Defects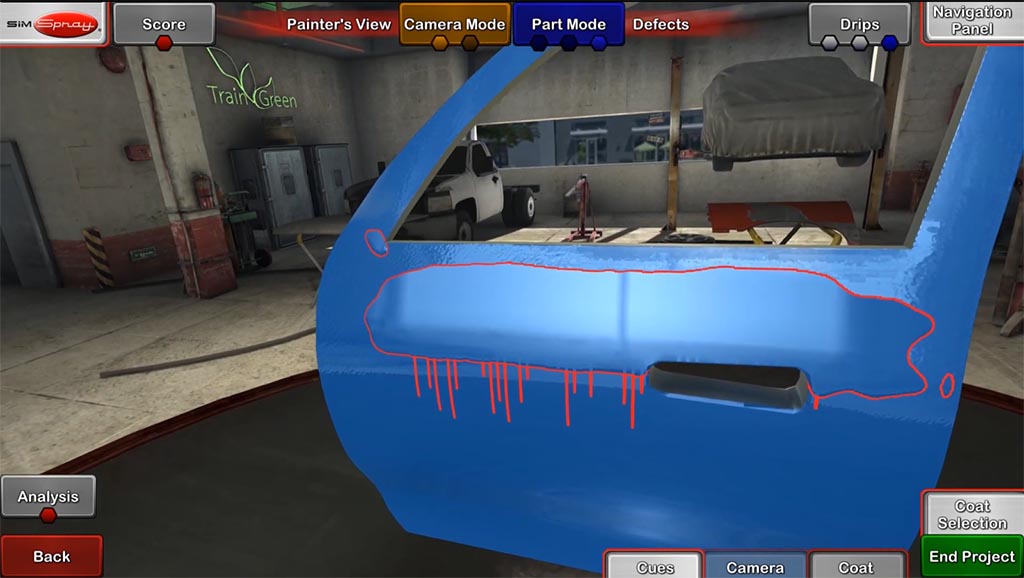 SimSpray features visual defects, shown in real time and in the review mode.
Instructors can highlight drips, orange peel, and dry spray to show students where their angle, distance, and speed were off.
Paint Coverage Map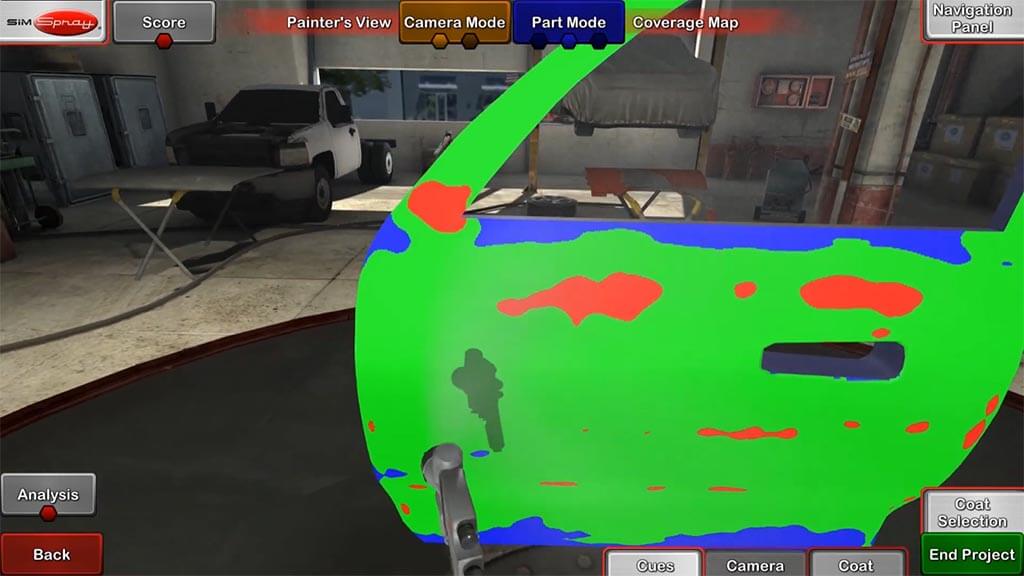 Here the instructor views the workpiece with color indicators of where the target mil thickness was reached (green), where the mil build was too light (blue), or too heavy (red).
Graph View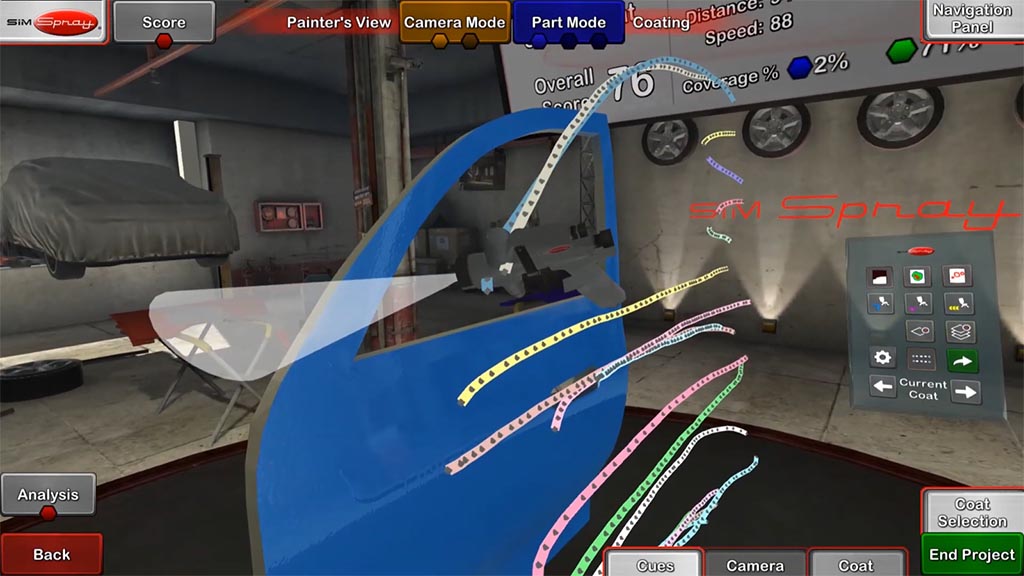 The graph view shows 3D lines representing gun positioning (both distance to the part and travel speed) in real time for each pass per coat.
On the bottom right, there are also graphs for distance, angle, and speed that can be toggled on/off for each pass made. These graphs show whether or not the student was in range of the parameters set by the instructor.
SimSpray provides instructors with additional tools to evaluate material usage after each painting exercise, control the usability of student visual cues, monitor system usage, and calculate SimSpray's ROI.
Project Editor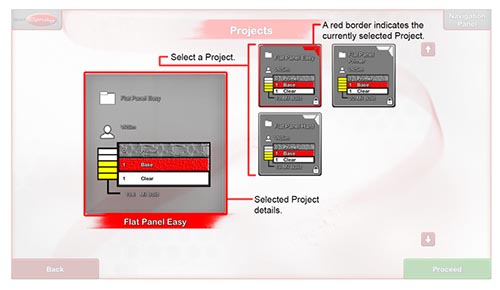 Under the administrative toolbar (which is password protected), instructors have access to SimSpray's Project Editor.
The Project Editor allows them to set up customized projects for each part detailing the number and type of coats and the specific parameters for each coat (mil build, air pressure, fluid pressure, and travel speed) along with a tolerance range for each setting. When going through the setup process, students will be able to choose which project they are using.
Student Reports
Once a student finishes their project, the student information saves as a SimSpray Student Report to a USB. The student report contains both images and scores for the completed project and each individual coat. Project parameters and individual pass information (including graphs and scores) are also detailed in the report.
This allows instructors to track student's progress throughout the semester and determine which areas they excel in, and which need more attention.
Review Tab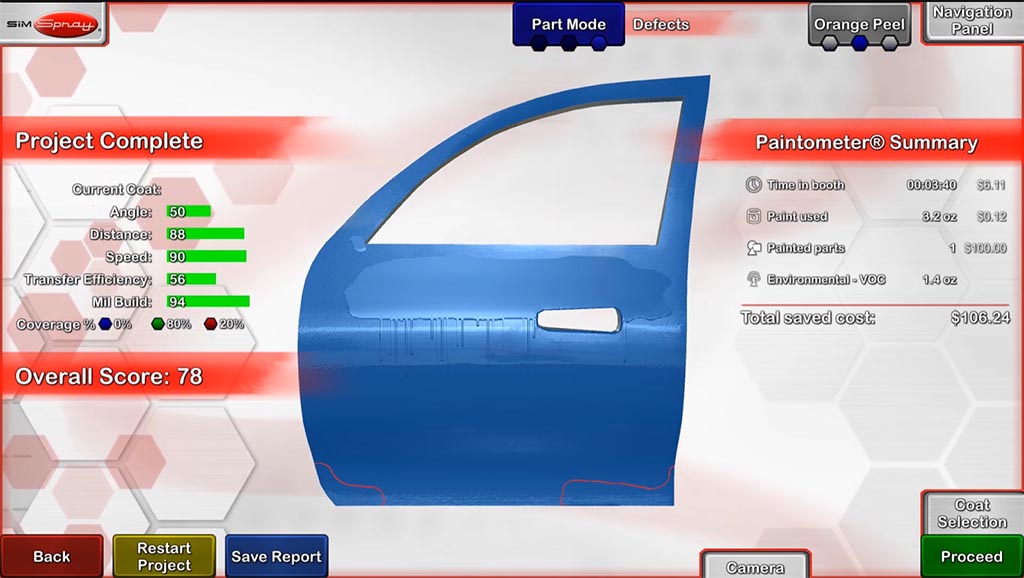 The Review Tab shows the completed coat in 3D and breaks down scoring for that coat based on: transfer efficiency, mil build, angle, distance, speed, and an overall score for that coat.
It also indicates the amount of paint applied and wasted (through overspray or excessive application) for that coat.
Paintometer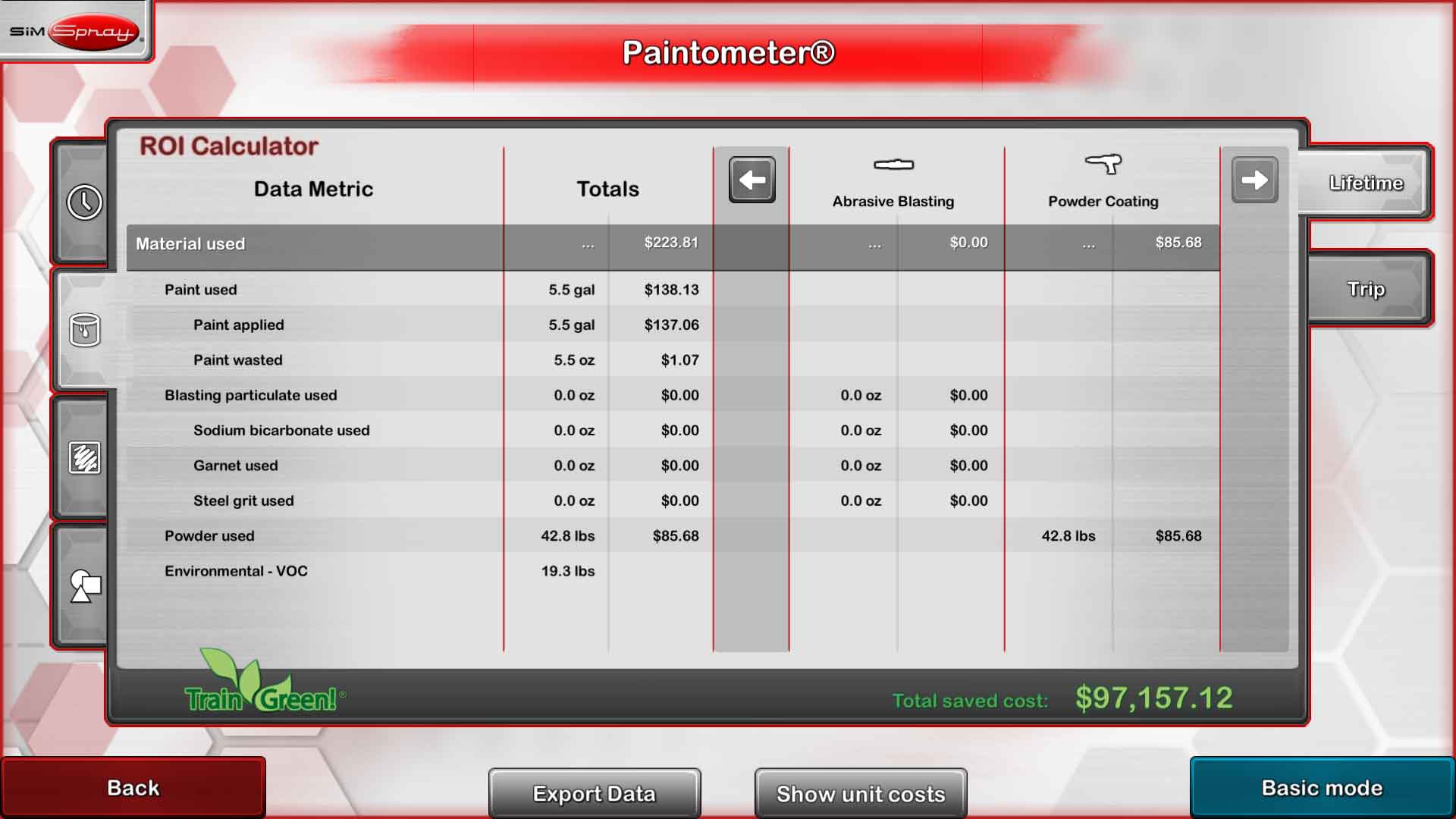 The Paintometer screen provides a compilation of the overall use of the system which assists in calculating SimSpray's ROI.
The Paintometer tabulates totals for time logged into SimSpray, time painting, paint/coating applied and wasted, and number of parts painted. These are shown as a system total, and also as a trip total (which can be reset at any time).
SimSpray 3.0 Edge Blending Module
SimSpray 2.0 Powder - Faraday Activity
SimSpray 3.0 Powder - Coating
SimSpray 2.0 Powder - Brief Look/p>