A unique innovation in industrial training! We present to you the SimSpray blasting and sandblasting training simulation. Schools can teach this abrasive method easily by the simulation, and in the construction industry for cleaning companies to train workers and unemployed members with an eco-friendly and effective educating equipment.

The simulation provides an excellent opportunity  to implement other abrasive blasting and spraying techniques, safe and inexpensive, but extremely effective during practical training for beginners and experienced practitioners further training too.

The blasting simulation is the result of the further development of the SimSpray Paint simulator. The blasting simulator is available alone, or a module of the paint- sanding-coating simulation, when it's coupled with an additional hardware unit to the existing simulator to SimSpray.

The new additional module of the SimSpray Industrial, the simulator allows the students training in three-dimensional environment, where they can learn how to prepare industrial parts for painting with the suitable technique.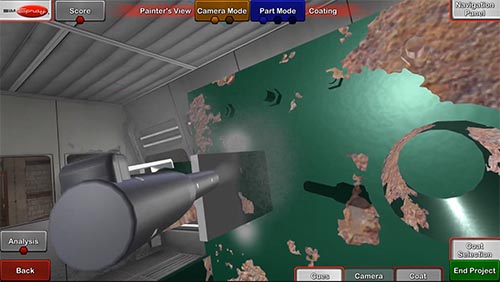 Virtual Blasting teaching method by SimSpray!
Significant cost savings through the use of materials and the additional costs associated with the operation a drastic reduction.
Safe, pollution-free education, clean environment
Significant efficiency gains in terms of the utilization of the ideal time of practical training
Real-time feedback to help the user during the execution of the tasks, ensuring the continous development of the pupils sustainability.
Verification views built to assist faculty evaluations are also available:
We can check the accurcy of the cleaning immediately, so simply can be cleaned where necessary even where still dirt on the surface of the material, maybe where we coused damage.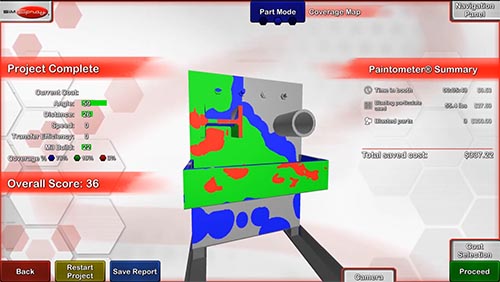 The program provides objective feedback on the evaluation work:
the quantities of raw materials and auxiliary materials used in the practice and about duration
the effectiveness of the cleaning and accuracy, as well as the extent of damage that may arise from the scattering surface.
SimSpray 3.0